Newsflash, mortals. It's summer, and it's hot outside. Oh, the calendar says it's still "spring," but when the Heat Index is 106 F, it's summer, no matter what equinoxes and solstices and tropics of whatnot say.
Still, Sigyn and the human female are keen to go walking whenever the female can drag her bloated carcass out of bed early enough to get going before the day changes from "balmy" to "humid inferno." Believe me, as a Frost Giant, I'd prefer to do anything else, but I can never be sure Sigyn will make it home safely without my protection, so I usually tag along. Here, then, is a random assortment of images from walks around the neighborhood.
Sigyn makes new friends wherever she goes. She's about to make a new one right outside the front door.
Look up, Sweetie! It's one of those rolly-uppy isopods with the many strange Midgardian names.
And here is a very juicy slug!
Hmmm. Has the human female already had breakfast? 'Cause I bet it'd go down easy…
Some of the slugs are black and velvety-looking. This one's out for a stroll slime.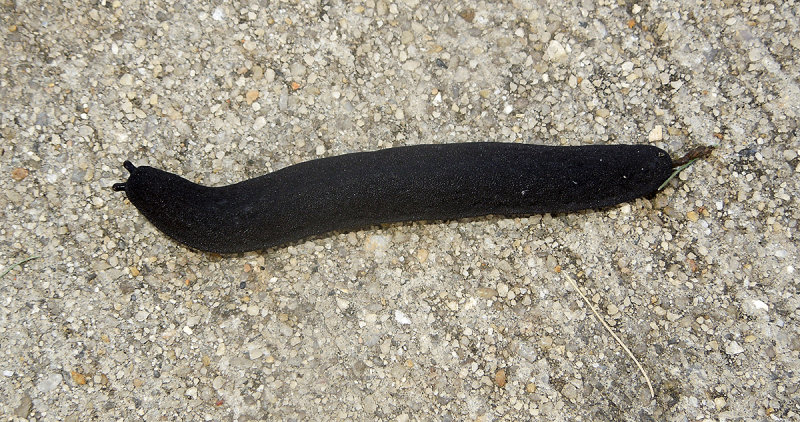 I made a video! Great Frigga's hairpins! I just looked that one up and it's an exotic invasive! You go, funky little foreign slug! Come to our house and eat up all the human female's flowers!
This red-eared slider turtle is a little shyer.
It says it is perfectly happy sitting in the pond by the Large Ugly Apartments all day and has no interest coming out on the bank to get acquainted.
Ugh! It really is annoyingly hot out here today! Sigyn, why don't you greet your little floral friends and then we can go home and get out of the heat. Maybe have ice cream for lunch…
The lilac chaste tree in the front yard is looking pretty good.
Especially when you recall that I keep inviting the neighbors to butcher it periodically!
The leaves smell very good and it's not a bad place for a dangle.
The crape myrtles are in full bloom as well. Whenever there's wind or a good rain, the flowers fall off and make for what Sigyn says is a "very festive sidewalk."
Many of the wildflowers are done for the year. This cut-leaved evening primrose is still prettifying the roadsides, though.
Looks like there's some horseweed in there too.
Keen-eyed Sigyn has found the buttonweed in someone's lawn. It looks like bluets, but the flowers are a LOT bigger. And furrier.
On the other hand, this purslane has flowers like its cousins, the cultivated, showy moss-roses, but the flowers are a lot smaller.
The human female says you can eat it. No, human female. YOU can eat it. I'm not in the habit of snacking on lawn weeds.
You can eat this one, too. Make yourself a nice salad of the leaves and add in some of the fruit when they show up.
You'll like them—they look like tiny yellow tomatoes and are only a little bit poisonous.
And your noshing on them will eventually leave more ice cream for the rest of us.
>|: [